Sears Key Shop in Colorado Springs has moved.
Attention customers, the Sears key shop has moved to:
1411 N. Academy Blvd, Colorado Springs, CO 80909
719-640-8026 shop tel. 719-960-4483 (24/7 Emergency Locksmith Service tel). Email: 719@KeylessShop.com
If you live in Colorado Springs, chances are you have been to the little key shop outside of Sears at the Broadmoor Towne Center.  The tiny, free-standing structure that sits in the Southgate Center parking lot has a walk-up window, a relic in these drive-through times.  Inside, they can crank out eight keys in less than a minute.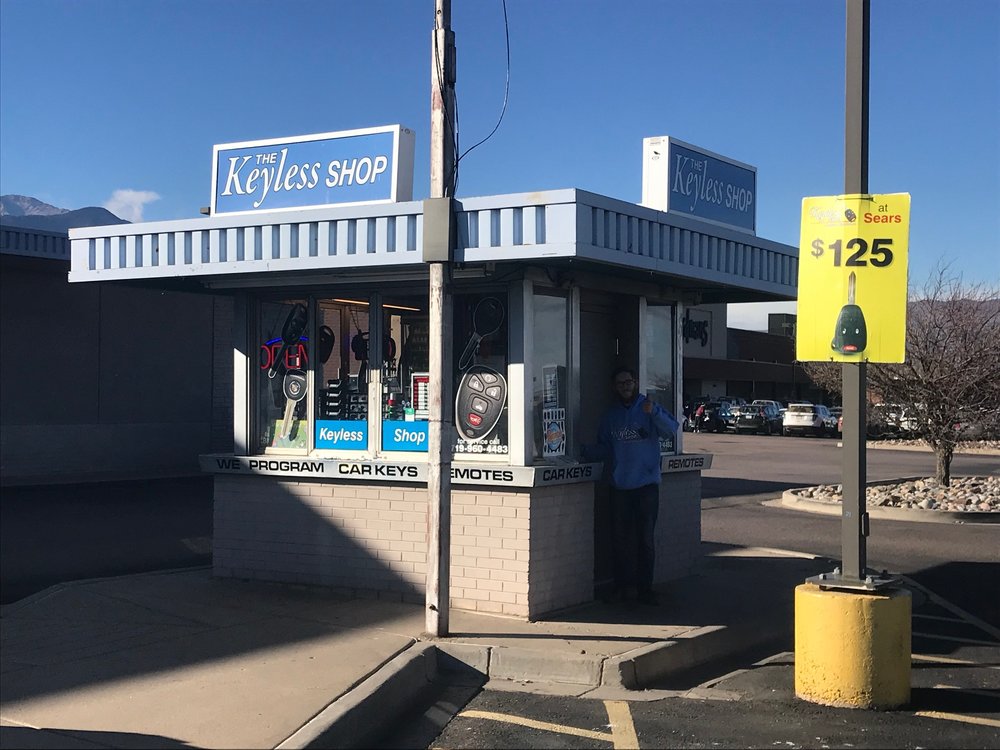 The key shop has been around for over 50 years serving the Colorado Springs area all your residential and commercial keys.  The key shop is now owned and operated by The Keyless Shop, an automotive locksmith specializing in car keys and remote programming.
Unfortunately Sears closed its doors permanently in 2019 so the key shop has relocated to 1411 N. Academy Blvd, Colorado Springs, CO 80909. We are excited to continue to serve the Colorodo Springs community.
Car keys are not cheap anymore as most of them have transponders and keyless entry remotes which have to be programmed with expensive scan tools.  Car dealers charge on average $250 for a transponder key and remote programming.  Save time and save money with The Keyless Shop.  We cover nearly every make and model vehicle car key and car remote and can program them usually in less than 20 minutes.  We also cut laser car keys for most vehicles including Subaru and Honda.
Give us a call today at 719-960-4483 or come see us in the outside Key Shop at Sears in Colorado Springs.  We look forward to serving you.