Where can I get car keys made in Hagerstown?
Affordable Car Keys made at The Keyless Shop located at 261 Frederick St, Hagerstown, MD 21740.
Call us at shop tel 240-420-4929 | 24/7 Emergency Locksmith Service tel. 800-985-9531 or email us at sales@KeylessShop.com.
The Keyless Shop is the automotive locksmith America trusts!  With 17 retail locations in 8 states and growing, come visit any Keyless Shop location for the best prices on car keys and car remotes.  Save up to 50% off dealer prices. 
The Keyless Shop of Hagerstown is your one stop shop for remotes and keys for most make and model vehicles. Save up to 50% off dealer prices! We carry over 15,000 remotes at our Hagerstown Location. Come visit our Hagerstown location next to Pope Tire at 261 Frederick St, Hagerstown, MD 21740.
Have you lost your car keys?
Do you need a spare key made? Is your key or remote broken in some way? Look no further than the Keyless Shop located at 261 Frederick Street in Hagerstown, MD next to Pope Tire. We specialize in making car keys and keyless entry remotes for most makes and models at affordable prices.  We are the most knowledgeable and most affordable automotive locksmith the Hagerstown and Washington Country Maryland. This includes keys with chips that need to be programmed directly to your vehicle and keyless entry remotes aka fobs or clickers that need to be programmed to your car.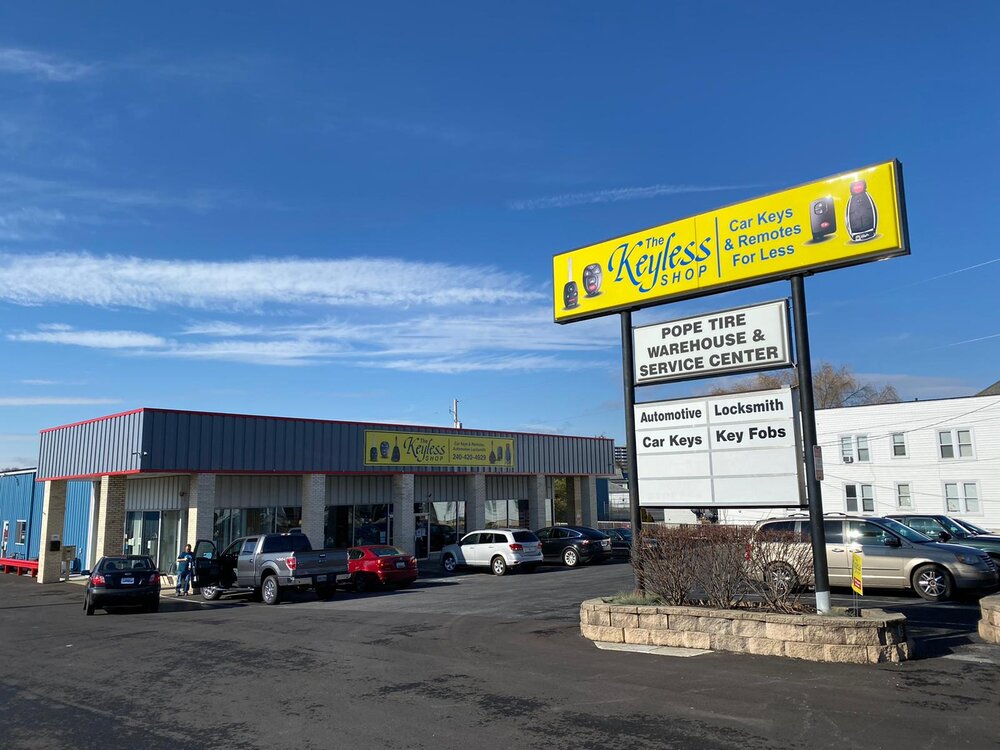 We are a full service professional automotive locksmith business that will come to where your car is located. Whether you need new keys made, or if you have locked your keys in your car, we are here to help! Losing your car keys can be very stressful and we offer the easiest way to get you back on the road. There is no need to contact the dealer who will charge outrageous prices for replacement keys, we have the best prices and we are the best car locksmith in Hagerstown.  
Our hours of operation are Monday through Friday 9am to 6pm and Saturday/Sunday 10am to 6pm. Call us at today 240-855-0322 for all your automotive locksmith needs!