Sears Key Shop in Fort Wayne Best Locksmith for Car Keys
4201 Coldwater Rd. Fort Wayne, IN 46805
260-715-4124 store tel. 260-376-2665 (24/7 Emergency Locksmith Service tel). Email: 260@KeylessShop.com
Most of us in Fort Wayne have experienced the frustration of loosing your only car key.  What a headache!  Or what if you loose the car remote? Which in late model vehicles is often combined with the key itself. How you can go about replacing them?  Well, you can take your car to the dealership or you can call a automotive locksmith in your area like us The Keyless Shop at Sears.  We are Fort Wayne's trusted automotive locksmith, serving the Fort Wayne community for over 55 years.
Most ignition keys now have a computer chips which communicate with the car to prevent theft. The transponder key won't work unless it is programmed with vehicle, which requires expensive programming scan tools.  This is what we specialize in, car keys, remotes programming no problem! We have you covered. 
Keyless shop at Sears  is the leading locksmith service provider in Fort Wayne for automotive keys and remotes. 
We are the automotive locksmiths that people trust.  We have customers that drive to our locksmith shop from different cities close to Fort Wayne almost every day, because we save them hundreds from dealership prices on car keys and car remotes.  Give us a call today for  a quote on your next car key and keyless entry remote fob.
Have you ever locked yourself out? Or Lost your car Keys? The fact is many people do. People all over the world do it. That's why there are people in a professional practice to help you out called locksmiths, more specifically automotive locksmiths. We are here to assist you day or night; sun, rain or snow we can provide you with auto locksmith service you need.
We want to be the affordable locksmith you call and be better than what others have to offer. Many other companies hide their prices, tally them up, and hand out outrageous bills. We believe in honest work for honest pay and we will stand by that.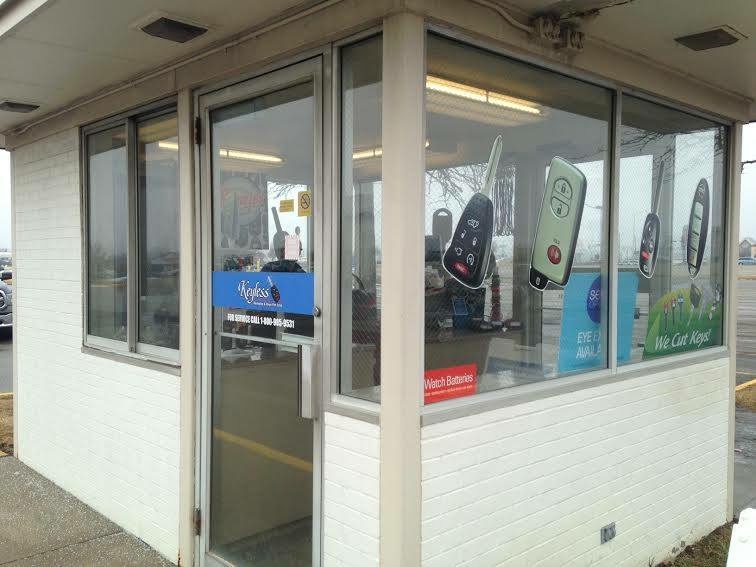 Here are some common questions people often ask in regards to replacing their auto keys and remotes:
What can I do if I've lost all of my car keys?
Lost, stolen or broken car keys are easily replaceable through The Keyless Shop at Sears in Fort Wayne.  Save up to 50% off local car dealership prices when you shop with us. We will cut and program a new car key to your vehicle at your locations. The cost varies depending on the type of key needed. If you have an older vehicle with a basic non chip key, the cost wont be that bad.  Expect to pay around $75 - $125 for make a key from scratch.  But if your vehicle has a transponder then the cost will be more. 
Can I program a car remote myself?
Each vehicle has a different procedure for how to program a new remote. Some remotes you can program yourself fairly quickly, while others need to be programmed by a professional automotive locksmith with the correct programming tools.  The Keyless Shop can program nearly every make and model car key and keyless entry remote. Give us a call at 260-376-2665 for a quote on your next car key and remote fob.
Where can I have my key or remote cut and programmed?
A local car dealership or automotive locksmith such as The Keyless Shop can program keys and remotes for you. Come visit us at The Glenbrook Square Mall, we are located right outside of Sears in the Sears Key Shop in Fort Wayne.  Our address is 4201 Coldwater Road, Fort Wayne, IN 46805.
How do I know if my car has a transponder chip inside?
You can take your key to our store at Glendbrook Mall right at Sears and we can read your key with our chip reader to determin if its a transponder key.
If the car key has a plastic casing around the top part of the key then chances are it has a chip, especially if its newer than 2002.  
What happens if my key doesn't work after I had it cut?
How can I find an automotive locksmith in my area?
You can always just google it, however most automotive locksmiths work out of a van and are usually more costly than us.  We have a retail storefront that has been in business for over 50 years.  We are located right at the mall so you come to us and we make your car key while you get your shopping done. 
What is the general price range for cutting and/or programming keys and remotes?
Most American & Japanese vehicles (Chevy keys, General Motors keys, Dodge keys, Ford Keys, Toyota keys, Honda keys, Lexus keys and Nissan keys) transponder/chip keys are $50 programmed to your car.  But please call for exact pricing.
Most German and European vehicles (VW keys, Audi keys, Fiat Keys, Volvo Keys) are $75 cut and programmed to your car. 
Most American & Japanese vehicles (Chevy remotes, General Motors remotes, Dodge remotes, Ford remotes, Toyota remotes, Honda remotes, Lexus keys and Nissan remotes) remotes are $75 programmed to your car.  Some are cheaper like Ford Remotes are only $35 programmed to your car. 
Most German and European vehicles (VW remotes, Audi remotes) are $75 programmed to your car. 
Car Lockout Service starts at $35.
House Lockout Service starts at $99.
How do I know if my vehicle has a keyless entry system?
Most newer model vehicles do.  Just give us a call with your year and model and we can help check if it has keyless entry.
Do replacements remotes come with a warranty?
Yes, most replacements remotes at The Keyless Shop come with a 90-day warranty.  Please ask your local Keyless Shop technicians for warranty details.